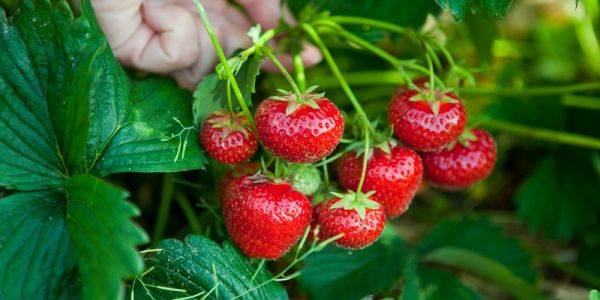 November is the time to plant this popular commercial strawberry.  Harvest big sweet berries from late December until May.
They should be planted about a foot apart, the same depth as the pot (maybe slightly higher).  Be careful that you don't plant the crown of the plant too deep. Water the new plants heavily until you see new growth. Then water them when the soil dries out, usually 2-3 times a week.
Cover the area around the berries with straw, pine needles, or plastic. The strawberry will blemish at the point where they touch the ground. Mulching prevents this.
You may fertilize lightly when planted. Once new growth shows, fertilize once a week or so with 'vegetable fertilizer' – organic is best.  An adequate amount of fertilizer will result in big leaves. Remember, big leaves, big strawberries!
Strawberry plants will take a freeze or a frost.  The flowers and berries will not so please cover with straw or cloth, not plastic, during the freezing weather.  Uncover berries the morning after the freeze or frost.  Strawberries love temperatures between 50 and 70 degrees.  That's when they will produce the biggest and sweetest fruit.
Please call us if you have any questions. Strawberries are very easy to grow and sweet to harvest! Have a great strawberry season!
Good Growin' 
Jim
Hours of Operation:  Monday – Saturday 8:30 AM – 5:00 PM and Sunday 10:00 AM – 4:00 PM
Address: 2010 E Lake Drive, Casselberry, FL 32707
The Japanese Plum is such a great little tree.  Naturally well-shaped and growing to 25 feet, the small evergreen has thick, stiff leaves.  The Loquat is cold hardy to 12 degrees F, and has no insect problems.  Now if that is not enough, this beautiful specimen tree...
read more