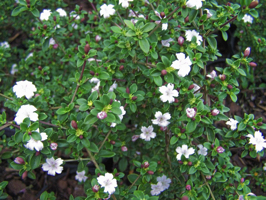 Need a small flowering shrub for a shady location?  Serissa could be the plant for you.  A tiny shrub growing to about 2 feet tall, pruned into an oval or round shape, makes serissa a nice edging or mini hedge.  The numerous tiny flowers can be white, pink or lavender and last most of the growing season.
A native to Japan, serissa can be grown throughout the state of Florida.  Shade to partial shade, would be the best light conditions for this tiny shrub.  Serissa is cold hardy but does require fertile, moisture retentive soil.  Plant in soil that is free of nematodes if possible.  Mulching around serissa is almost a must to keep out competing weeds and to retain water.  Serissa can't be kept waterlogged.  It must dry out somewhat.  Not being a heavy user of fertilizer, serissa should be fertilized once a year in February.  The tiny shrub makes a great potted plant for a well-vented porch.
Hours of Operation: 8:30 AM – 5:00 PM Monday – Saturday and 10:00 AM – 4:00 PM Sunday
2010 E Lake Drive, Casselberry, FL 32707
The Japanese Plum is such a great little tree.  Naturally well-shaped and growing to 25 feet, the small evergreen has thick, stiff leaves.  The Loquat is cold hardy to 12 degrees F, and has no insect problems.  Now if that is not enough, this beautiful specimen tree...
read more