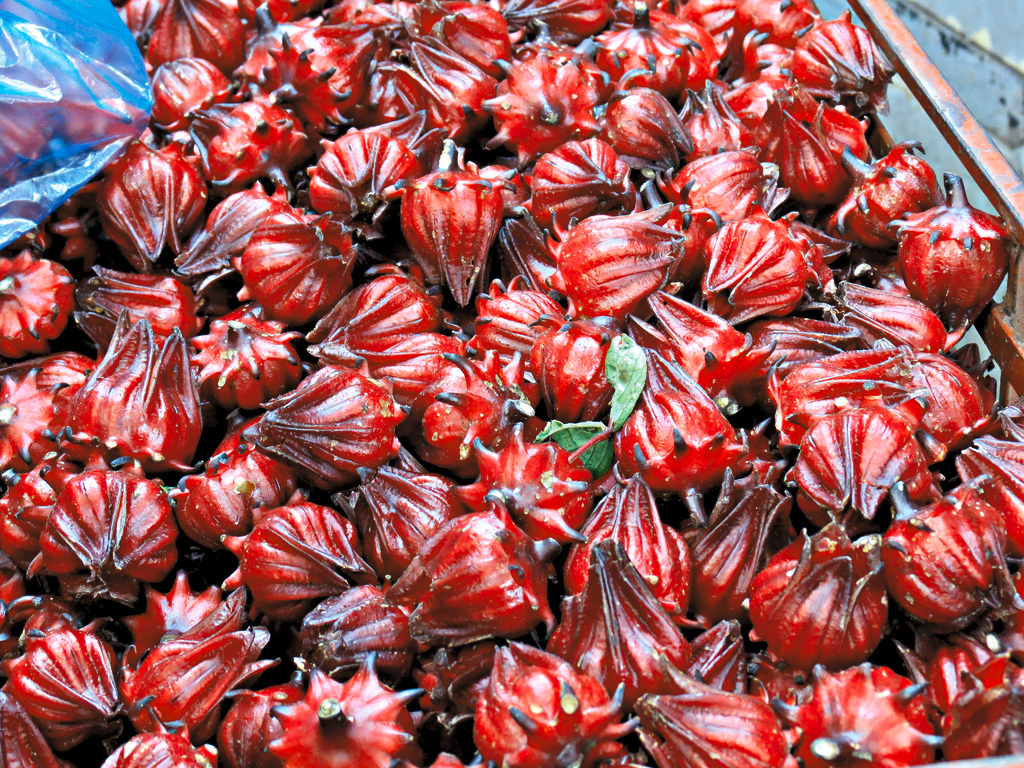 Also called 'Jamaican Sorrel', 'Florida Cranberry', etc., Roselle is an annual hibiscus grown primarily for the food product.  A native of west Africa, Roselle is a common plant in the tropics.  Its history in Florida goes back to old 'cracker' times, hence, the nickname 'Florida Cranberry'.  Roselle is rarely grown in Florida today.
Roselle products are many, but its main use is to make a wonderful drink.  This punch is quite healthy and is the traditional holiday drink in Panama.  The calyxes of the plant are used to make the punch, tea, juice, jam, jelly, wine, and cranberry like sauce.  Plant leaves are edible in fresh salads or cooked.  The seeds maybe roasted for eating or used for healing oil.  The stems yield fiber.  Roselle also does well as a fresh cut plant material.
Roselle is a very easy plant to grow.  Seeds are planted in spring or early summer.  Once established these plants need little care.  Fertilization should be kept to a minimum to produce large calyxes.  It can be grown as an annual hedge to a height of 5'-8'.  Leaves are green and deeply lobed.  The hibiscus flower is beige with a red center and usually doesn't fully open.  Plant stems and calyxes are bright red.  The fall color of Roselle is stunning !
Roselle is a really fun plant to grow and consume.  If you try it, you will like it.
Try out this recipe:
Jamaican Sorel Drink
1 ½ Teaspoon whole cloves          1 ½ Teaspoon allspice          1 Gallon water
1 large smashed ginger piece      4-5 Cinnamon sticks            1 Gallon calyxes
Boil all ingredients except calyxes for 20 minutes and remove from stove.  Use a glass or porcelain container for Roselle calyxes and pour hot mixture over.  Let sit overnight.  Strain and add honey or sugar to taste.
Hours of Operation:  Monday – Saturday 8:30 AM – 5:00 PM and Sunday 10:00 AM – 4:00 PM
Address: 2010 E Lake Drive, Casselberry, FL 32707
The Japanese Plum is such a great little tree.  Naturally well-shaped and growing to 25 feet, the small evergreen has thick, stiff leaves.  The Loquat is cold hardy to 12 degrees F, and has no insect problems.  Now if that is not enough, this beautiful specimen tree...
read more