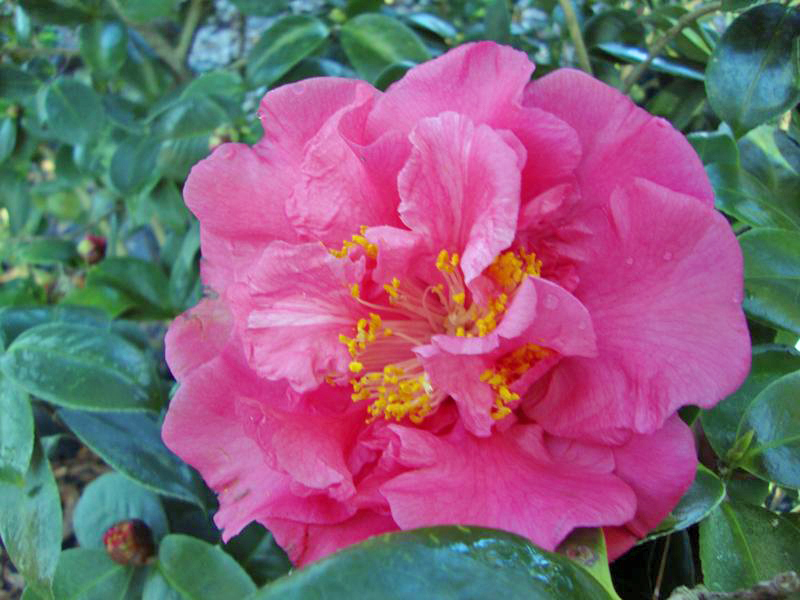 Awe-inspiring flowers on a winters' day is the ancient camellia.  Grown for centuries in Asia and Japan, the camellia was brought to the American south in the 1820's.  The aristocrat of southern shrubs, camellias have been grown and loved since the antebellum days.  With over 2,000 cultivators, there has to be at least one that will brighten your winter's day.
As a landscape plant, camellias are used as a hedge or specimen.  As an evergreen shrub or small tree, the foliage is dense and compact.  With a central leader, the camellia generally has been an oval shape.  Most commonly grown 6-10 feet, some varieties can reach 45 feet with a lot of time.  They are a very easy and tough plant if their living conditions are met.
Our freezes are no problem for they are cold hardy through zone 7.  Light requirements are high or broken shade.  Some varieties like Sasanqua can be grown in full Florida sun.  Morning sun with afternoon shade will make them very happy.
The camellia's soil should be slightly acid (Ph 6.0), moist and well-drained.  Planted and mulched in an area with good air flow, the camellia has much less of a problem from the tea scale insects.
Hours of Operation:  Monday – Saturday 8:30 AM – 5:00 PM and Sunday 10:00 AM – 4:00 PM
Address: 2010 E Lake Drive, Casselberry, FL 32707
The Japanese Plum is such a great little tree.  Naturally well-shaped and growing to 25 feet, the small evergreen has thick, stiff leaves.  The Loquat is cold hardy to 12 degrees F, and has no insect problems.  Now if that is not enough, this beautiful specimen tree...
read more